Market Updates

Impacts on the Real Estate Market due to Covid-19 3/31/2020
Whenever market changes happen, it can initially seem frightening. It's like being in a room with no windows and the power suddenly goes out. The sudden darkness causes instant fear that may even take our breath away. After a few moments of reorientation, breathing, and finding inner calm, it gets easier to remember what to do next. Panic gives way to planning and solutions become clear.

A sudden shift in world economics brought on by COVID-19 is making rapid changes in the lending industry. Currently, FHA and VA loan criteria are changing fast. Buyers who previously fit that lending criteria yesterday may not today. This could make drastic changes in the way we do business during the time it takes the market to re-stabilize. Knowing this helps calm the inner panic and help us plan for the new market conditions. When we are prepared, we don't need to fear.

Minimum Credit Score for Government Products Increased to 640

Pipeline Guidance
Floating/Unlocked Loans
The revised credit score requirements are effective immediately for all floating (unlocked) loans in any status prior to "Conditionally Approved" underwriting status. To clarify, floating loans with a "Conditionally Approved" underwriting status can be locked and closed.
Locked Loans
All locked loans, regardless of loan status, will continue to be subject to previous credit score requirements. Lock extensions are available, however, relocks will not be permitted.

FHA and VA Updates
For all FHA and VA products where a credit score is required, the minimum credit score is being increased from 550 to 640. This increase is applicable to both Standard and Jumbo transactions.
All FHA Streamline and VA IRRRL refinance transactions will now require a minimum 640 credit score as evidenced by a mortgage-only in-file credit report.
USDA Updates
For USDA products, the minimum credit score is being increased from 620 to 640 for full documentation and streamline transactions.
FHA/VA Loans
Government Lending as we know it will be nearly non-existent by April 15th. It's time to prepare for a new normal. This will impact retail, wholesale, correspondent, and banks.
Don't Miss Mortgage Payments!
Consumers NEED to make their mortgage payments. We have politicians and media outlets irresponsibly communicating incomplete information that consumers do not need to make their mortgage payments. We are the FIRST line of defense for our industry, we must educate our customers on what their options are, we must educate them on how these options impact their credit, and we need to prevent abusive behavior; these options are for people that truly need them. Everyone needs to do their part!

Here is a letter that a homeowner got from their loan servicer today. This would not be an ideal situation for this family in July when the balloon payment is due. This particular type of forbearance plan could be devastating. Read the fine print and consider the terms that are presented before agreeing on a forbearance plan.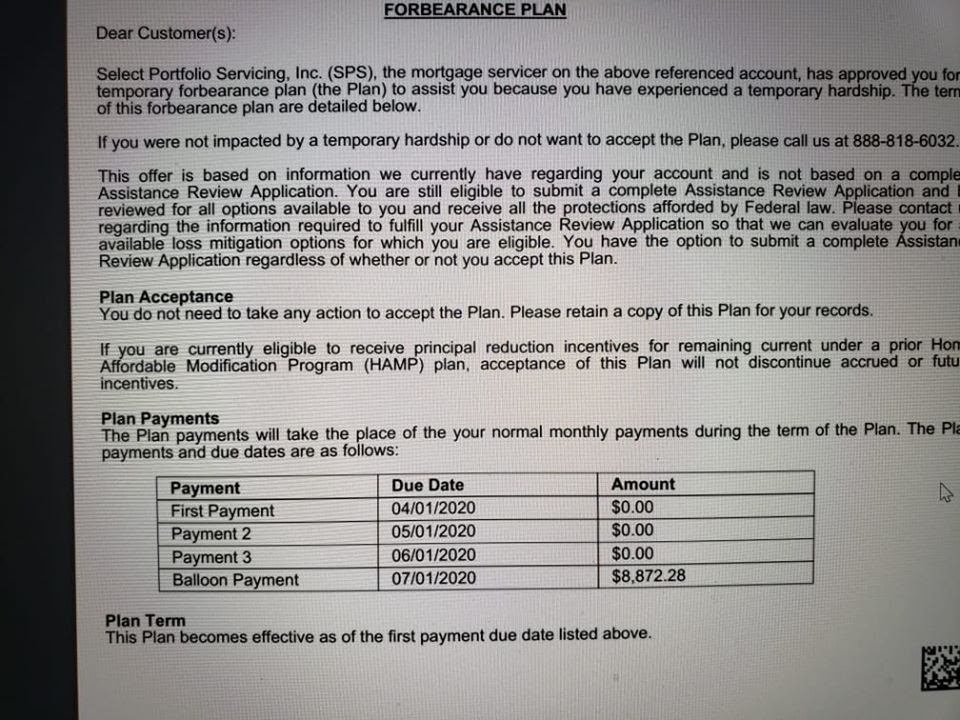 How do we overcome this? Bypass the bank with lease option or seller financing!
Call us today for a free consultation! We can help you purchase or sell your home during this uncertain time! Call/text 801.708.3513.